The Sacred Movement Movement
Most of us desire to control or impact our lives, circumstances and our environment, but cannot fully control the one gift we have been given complete custodianship over – our bodies. How can we impact our lives, our circumstances or the world in a meaningful way? How do we come into greater alignment with our bodies? How do we bring our bodies into greater alignment with Nature? How are our bodies a vehicle for tapping into ancestral wisdom?
Through the Ancient Wisdom Sacred Movement classes, workshops and retreats we engage in the ancient physical disciplines of Bushman Trance Dance, African Shamanic Dancing, Taiji / Qi Gong, Kundalini Yoga, Kemetic Yoga, Dance Meditation, as well as Breathwork and Meditation to activate the Life Force – also known as Ra, Qi, Kundalini or N!um.
We allow these practices to bring us to a place of healing and into embodied experience of cosmology. Through this we come into right relationship with our bodies, we come into right relationship with our lives, we vibrate with the Cosmos and resonate with the Divine.
Regular Offerings
The exciting offerings are:
Dance Meditation
Kemetic Yoga
Kundalini Yoga
Taiji / Qi Gong
Wu Ji Gong
Breathwork and Meditation
The various ancient systems have been shown to assist in circulation, metabolism, balance, flexibility, posture, mental focus, immune function, daily energy levels, brain health, organ function, emotional balance and self-awareness.
They can each be adapted to people of any age, capability or fitness levels, while cultivating internal energy for external manifestation.
Each practice is offered on the online Zoom platform until further notice.
Workshops and Retreats
Lookout for Sacred Movement Movement workshops and retreats, allowing participants to deepen both the embodiment and understanding of the cosmology behind each practice.
Additional specialised workshops in African Shamanic Dance, African Dance and San Trance Dance will bring participants deep into the heartbeat of the Cradle of Humanity and the Cradle of Life.
Lerato Mileng – Dance Meditation
For as long as humans and other beings have existed upon the planet, there has been dance. Shamans and mystics the world over have for millennia used the power of dance to dive deep into their consciousness and break through to bliss. By dancing, they are able to calm the endless stream of thoughts of the mind and discover inner peace.
Dance is a ritual where the learning mode is reversed and the mind learns from the body. Dance meditation is a sacrament where movement and stillness combine.
Lerato Mileng is a Certified Tantra and Meditation Practitioner as well as a lifelong student of Sacred Dance and Movement Medicine. Her natural gift of flow and passion has called her into a sensually spiritual practice of Sacred Dance and embodiment for wellness and bliss.
Dan Simpson – Kundalini Yoga
Kundalini Yoga is an ancient science that incorporates physical, mental and spiritual development, planting the seeds for us to achieve our highest human potential.
Yoga means 'union', thus the goal of our practice is the 'goalless goal' and it simply is as such. The science of Yogic traditions, to a large degree, is designed around the removal of obstacles that obstruct the view of who we are – that prevent Yoga itself.
Kundalini Yoga is a Sikh lineage and is one of the more spiritual and focused of the different Yogic traditions.
Dan Simpson offers Kundalini Yoga classes as a holistic approach to the wellbeing and cultivation of body, mind and spirit.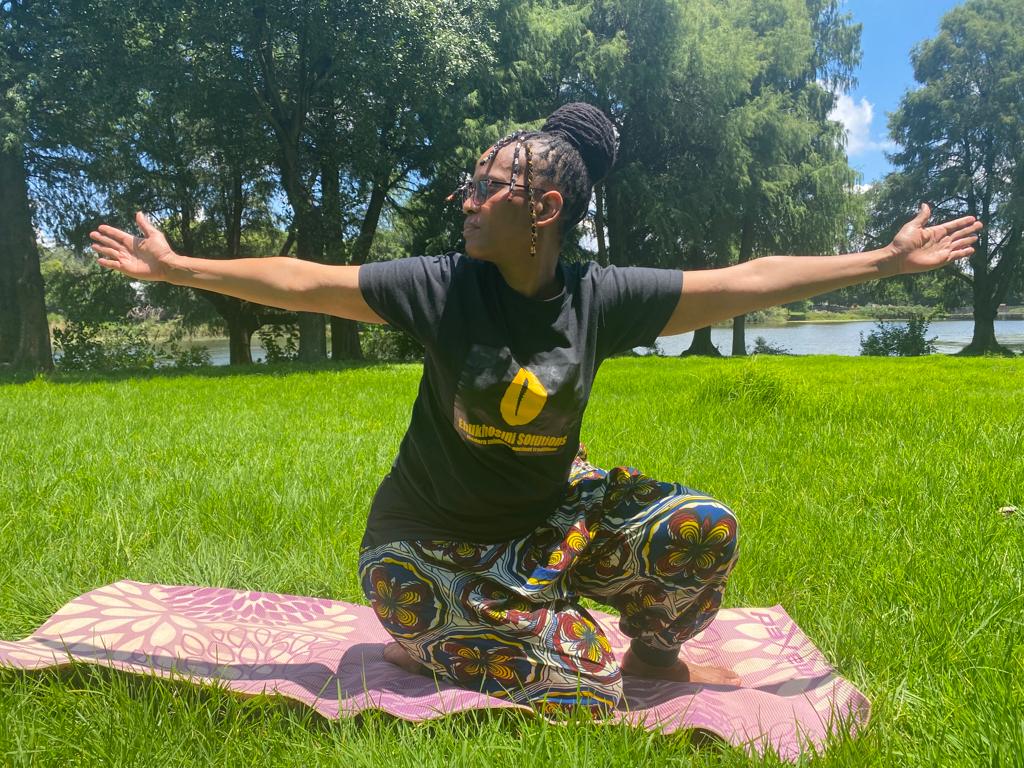 Tebogo Buntu – Kemetic Yoga
Kemetic Yoga is a philosophy and movement practice originating in ancient Kemet. The geometric positions and postures seen in the hieroglyphs and temple walls of ancient Egypt are some of the earliest manifestations of yoga. Despite this, the practice – with its roots in Africa – has been largely ignored by mainstream yoga culture, in as much as many African indigenous knowledge systems have been suppressed by the modern world.
The discipline focuses on the movement of energy through the body in order to connect with one's higher intelligence and the divine. One practices Kemetic yoga at a much slower pace than in a standard asana class, and there is more of a focus on meditation and the chakras (energy centers). Kemetic yoga practice places emphasis on deep breathing, meditation, and alignment of the nervous system.
Tebogo Buntu is a is a 200hr Kemetic Yoga instructor certified through African Kemetic Yoga Institute. She strongly believes in embodied holistic healing, and that through awareness of one's strengths and weaknesses, one has the ability to be more gentle and appreciative of  where one is. She recommends Kemetic yoga to everyone who wishes to experience their true self-identity.
Tracy Veritas – Breath Work and Movement Meditation
Breathwork is both an ancient art and a modern science. It is an inner journey that brings peace, energy and meaning in our troubled times.
Meditation is the deliberate and practiced art of concentrating, thinking, sorting out thoughts, prayer, and contemplation. It is an ancient wellness practice that brings focus, awareness, attention, and compassion. Together they bring the ability to reduce stress and anxiety, as well as increase calm and relaxation.
Tracy Veritas practices and teaches a unique blend of embodied Breath Work & Meditation. Her approach is intuitive, integrative and practical. Together she leads practitioners to explore and discover bodies, minds and hearts through the diverse Arts of Breath & Meditation.
Rutendo Ngara – Tai Ji and Qi Gong
Tai Ji Quan (Tai Ji) – loosely meaning 'supreme ultimate boxing' – is an ancient Chinese martial art and self-defense system, where stillness, slowness, and softness meet circular movements, mental concentration, breath control, meditation and internal power.
Qi Gong – 'the cultivation of the life force' – brings the mind, body and spirit into alignment through integrating posture, movement, breathing technique, self-massage, sound, and focused intent.
The practices enhance mental, emotional and physical health, while promoting spiritual growth. The movements assist the Qi to move through the various streams, rivers, lakes and dams (the meridians) in the body. When the Qi flows freely, we become as Nature intended – rooted, centered, balanced and in harmony with the Elements.
Rutendo Ngara is a practitioner of a number of physical disciplines, including Dance, Yoga and the Chinese Martial Arts (Wushu/Kung Fu). She has represented South Africa internationally as a National Protea Athlete, Team Manager and Team Captain, having earned a silver medal in Taijiquan (Tai Ji) in World Traditional Wushu Championships in China. She is a nationally accredited Wushu Judge and a Development Tai Ji Coach for the South African Wushu Federation.
Her personal practice is primarily informed by Kemetic, Taoist and Bantu cosmologies, as well as the ebb and flow of Nature.
Adele Smith – Wu Ji Gong
Wu Ji Gong is an 800-year old living form developed by Chang San Feng, the 13th century founder of Tai Ji (Tai Chi Quan).  Meaning "develop skill for entering the Supreme Mystery", Wu Ji Gong is complete Qi Gong practice and "meditation in motion".
The practice strengthens the flow of life force Qi energy, harmonises & integrate body-mind-soul and opens us up to the love at our core.  Through the alchemical movements stuck patterns, debilitating emotions & ancestral wounds can be dissolved.  This in turn opens the flow of our life's natural destiny.
The entire practice is very simple and only takes a few hours to learn. It is ideal for very busy people, as it only takes 15 – 20 minutes wherever you are.  The gentle movements can be practiced at any age. With regular practice it ultimately opens up a profound inner space inside each of us, where our Original Spirit, the "face of our soul before we were born", can reveal itself. This inner space is called "Wu Ji" (Supreme Mystery)
Adele Smith is a Wu Ji Gong lineage holder, having received the transmission from direct lineage holder Andrew Kenneth Fretwell. She is one of a handful qualified Wu Ji Gong teachers in South Africa and a registered member of the international Wu Ji Gong organisation.  As part of her earlier Qi training, she travelled to China, studying with teachers from the Wudang and Shaolin lineages.  Adéle continues her studies in Qi Gong, Taoist Alchemy, Wu Ji Gong and Tai Ji with various international teachers.
She offers regular sessions in person & online to learn Wu Ji Gong, as well as Wu Ji Gong deepening group sessions.  Adéle also offers Qi Gong urban garden retreats & "Introduction to Tai Chi & Qigong" Saturday afternoon experiences, as well as weekly Qi Gong & Tai Ji classes.
The Sacred Movement Movement recognises each of us as an indivisible duality with the Whole. Through embodied movement practices we recognise the continuum between the person and the community, and our collective responsibility towards our environment. Through moving within, we heal without.